North Bay-Mattawa Conservation Authority
15 Janey Avenue
North Bay, Ontario
P1C 1N1

Phone: (705) 474-5420
Fax: (705) 474-9793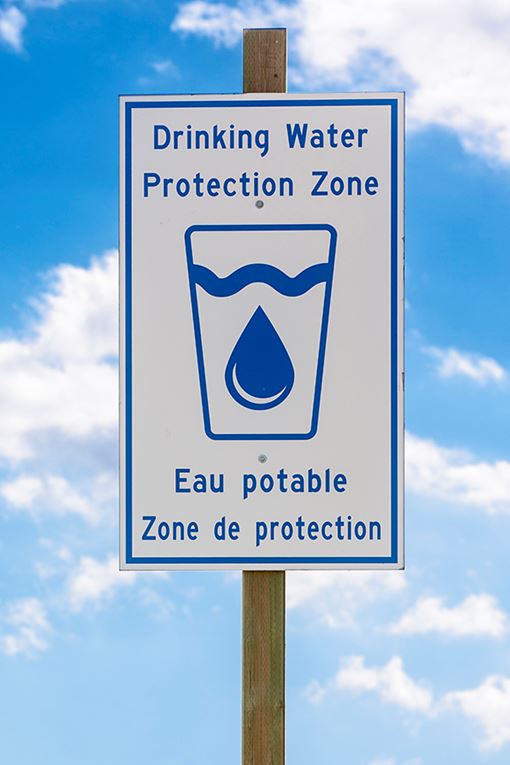 You'll see these signs posted on roadways to advise when you're entering an Intake Protection Zone or a Wellhead Protection Area for a municipal drinking water source.
Working Together to Protect Our Drinking Water Sources
Everyone should be able to trust that the water they drink is safe. Protecting the sources of our drinking water - lakes, rivers or underground aquifers - is the first step to ensure safe drinking water through the development of a Source Protection Plan (SP Plan).
North Bay-Mattawa Source Protection Plan (Effective Date July 1, 2015)
Explanatory Document (Explains rationale for each policy)
Assessment Report (Identifies vulnerable areas and threats)
Source Protection Plan and Assessment Report Updates
The current Source Protection Plan has been in effect since July 1, 2015. The Minister provided a revised section 36 Order in May 2019 directing the Source Protection Authority to submit updates to the Source Protection Plan and related Assessment Report.
The Source Protection Committee has met several times to review the Source Protection Plan policies with the goal of addressing any implementation challenges and keeping the documents current with technical information, regulations and Ministry guidance.
The updates to the Source Protection Plan will include: modifications to delineated areas for surface
water systems; incorporating threat activities and changes made to the provincial tables of drinking water threats; review of policy wording and potential additions to policy sets; making editorial corrections; and updating text and tables to reflect current information.

As the Source Protection Committee reviews drafts of proposed changes these will be shared with staff at the Ministry of Environment, Conservation and Parks. Rounds of consultation will then occur with municipalities and implementing agencies, followed by a public consultation phase.
Background
The North Bay-Mattawa Source Protection Authority (SPA) coordinated the development of the Source Protection Plan (SP Plan) to protect the sources of five municipal drinking water systems in our watershed:  Callander, Mattawa, North Bay, Powassan and South River. The SPA appointed the local Source Protection Committee (SPC). Who worked with the municipalities, various stakeholders and the general public to ensure that the Source Protection Plan is relevant at the local level and that our drinking water sources are protected now and for future generations. The SP Plan is based on the scientific and technical findings and consultations contained in the Assessment Report.
Implementation
The SP Plan designates bodies to implement the policies including municipalities, provincial ministries, the Source Protection Authority, the Technical Standards & Safety Authority and the North Bay-Mattawa Conservation Authority (NBMCA). Municipalities will implement the plan through a variety of strategies, including their own official plans and bylaws, and other bodies will implement policies through the legislative and regulatory frameworks required in the SP Plan.
If you have any questions, comments or suggestions, please contact us at dwsp.comments@nbmca.ca or contact Source Protection Staff at 705 474-5420.
Clean Water Act
The Clean Water Act was passed by the Ontario legislature to assist communities with protecting their municipal drinking water supplies at the source. Through source protection planning, communities across Ontario identify potential risks to local water quality and water supply, and create a plan to reduce or eliminate these risks. Development of the Plans is overseen by local Source Protection Committees and involves watershed residents, municipalities, conservation authorities, property owners, farmers, industry, health officials, community groups, and others.
Source Protection Planning is governed by the Clean Water Act, 2006 and has been fully funded by the Province of Ontario to March 2015.
Learn more about Ontario's Drinking Water Source Protection Program by visiting www.ontario.ca
Ontario's Source Water Protection Map
Everyone can play a role in protecting our sources of drinking water. 
Check out our local Source Protection Plan for North Bay, Mattawa, Callander, Powassan and South River. 
https://www.actforcleanwater.ca/media/1017/nbm_sp-plan-approved-20150305.pdf
Policies implemented for protecting municipal drinking water sources; plan now up for review
(North Bay, June 17, 2022)   All policies established to protect the sources of municipal drinking water in North Bay, Mattawa, Powassan, Callander, and South River are now in place and being implemented according to the North Bay-Mattawa Source Protection Area's 2021 Annual Report.
"The annual report rates progress on implementation of policies by all affected municipalities, ministries and agencies as specified in the Source Protection Plan. It also flags challenges and areas for review," said David Ellingwood, Supervisor of the drinking water source protection program at the North Bay-Mattawa Conservation Authority (NBMCA).
The North Bay-Mattawa Conservation Authority administers the Source Protection program under the oversight of the source protection committee and the source protection authority with provincial funding through the Ministry of Environment, Conservation and Parks.
The Annual Report can be viewed here: 2021 DWSP Annual Report